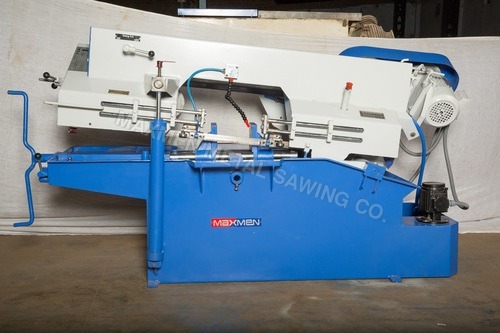 Hydraulic Metal Cutting Bandsaw
Product Code : LX-1HS
Price And Quantity
Unit of Measure

:

,
Product Specifications
Type

:

Bar Cutting Machine, Automatic Cutting Machine, Metal Cutting Machine, Hydraulic Cutting Machine
Product Description
Metal Cutting Bandsaw
Our company specializes in manufacturing, supplying and exporting Hydraulic Metal Cutting Bandsaw. This bandsaw is reckoned for sturdy construction, excellent cutting performance and superior finish. Our offered bandsaw is highly demanded by various engineering and industrial applications. This bandsaw is manufactured under the strict supervision of our experienced professionals so that the final output meets with the international quality standards. To assure zero-defect, Hydraulic Metal Cutting Bandsaw is thoroughly checked on various parameters by a team of quality controllers.

Other information:

| | | | | | | | | |
| --- | --- | --- | --- | --- | --- | --- | --- | --- |
| MODEL | LX -0 | LX - 1 | LX - 1 HS | LX -10 HS | LX - 2 HS | LX - 3 HS | LX - 4 HS | LX - 5HS |
| Round mm | 75 | 175 | 175 | 250 | 300 | 350 | 400 | 450 |
| Square mm | 75 X 75 | 150 X 150 | 150 X 150 | 200 X 200 | 250 X 250 | 300 X 300 | 350 X 350 | 400 X 400 |
DRIVE

| | | | | | | | | |
| --- | --- | --- | --- | --- | --- | --- | --- | --- |
| Drive motor | 0.5H.P. 1440 RPM | 0.5H.P. 1440 RPM | 1.0H.P. 1440 RPM | 1.5 H.P. 1440 RPM | 2 H.P. 1000 RPM | 2 H.P. 1000 RPM | 2HP. 1000 RPM | 2H.P 1000 RPM |
| Coolant Pump | 0, 15 HP, 440 Volts | 0.15 HP., 440 Vote | 0.15 HP., 440 Volts | 0.15 HP., 440 Volts | 0.15 HP., 440 Volts | 0.15 HP, 440 Volts | 0.15 H.P, 440 Volts | 0.15 HP., 440 Volts |
| Blade Speed | 25 / 30 / 35 | 25 / 30 / 35 | 20 / 35 | 20 / 35 | 20 / 35 | 20 / 35 | 15 / 35 | 15 / 35 |
| Meter / minute | | | 55 / 75 | 55 / 75 | 55 / 75 | 55 / 75 | 55 / 75 | 55 / 75 |

DIMENSIONS


| | | | | | | | | |
| --- | --- | --- | --- | --- | --- | --- | --- | --- |
| Bandsaw Blade - mm | 2540 X 20 X 0.9 | 2540 X 20 X 0.9 | 3000 X 27 X 09 | 3505 X 27 X 0.9 | 3760 X 27 X 0.9 | 4100 X 34 X 1.1 | 4420 X 34 X 1.1 | 4570 X 41 X 1.3 |
| Floor Space LxWxH mm | 1500 X 570 X 870 | 1500 X 570 X 870 | 1630 X 580 X 895 | 2300 X 822 X 1000 | 2400 X 830 X 1050 | 2650 X 830 X 1200 | 2700 X 830 X 1200 | 2750 X 830 X 1200 |
| Net Weight kg | 272 | 272 | 322 | 550 | 600 | 700 | 800 | 950 |